Ever thought you should do something about your monotone voice?
Well, maybe you shouldn't.
New research has looked into how people react to monotone voices, and it's really quite surprising.

Firstly, guys with monotone voices actually seem to do better with women – in fact, a monotone voice was found to be even more of an asset than a deep one.
This conclusion came from a 'dating game' experiment, where men were pitted against each other in a kind of 'Blind Date' format to win dinner with a woman. Contestants were asked to describe themselves to the anonymous woman and then tell their competitors why they were respected and admired by other men.
The ones who did this with the steadiest tones were found to have had the most sexual partners in recent years, even more so than the guys with the deepest voices.
But why? You might conclude that monotone voices are actually more attractive, but there's no strong evidence for this – studies tend not to find much of a preference either way. For every David Attenborough or Morgan Freeman, there's a Tom Hiddleston or Harrison Ford.
Instead, researchers believe that their success comes not from the effect they have on women, but the effect they have on other men.
Like a growl, that low monotone serves as a warning to any competitors. And with pretty good reason – men who speak with flatter tones tend to have stronger arms, higher levels of testosterone and higher ratings of dominance from men and women.
In fact, you need only look at our Top 12 most monotone voices to see what a masculine trait it really is: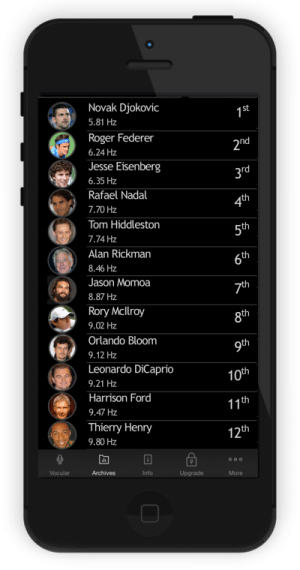 Not only is everyone on the list a man, you have to go all the way down to #54 to find the first woman, Emily Blunt. You also get some idea of why these voices are associated with a competitive personality – the list contains 5 of the 7 sportsmen in the database, and the three #1 tennis players from the last 10 years are all in the Top 4.
James Bond actors also scored quite highly, and interestingly seem to tone it down even more when playing 007 – removing even more intonation from their voices. And James Earl Jones originally planned to voice Darth Vader with far more nuance before George Lucas told him to cut all that out.
So why all the hate? If a monotonous voice is so great, then why do so many people want to change theirs?
Well, there's a bit of a linguistic trick going on here. See, the first paper to really look into vocal attractiveness also looked at why some voices were considered 'monotonous'. Their finding: monotonous =/= monotone; men who varied their tones a lot were just as likely to be called 'monotonous' as ones who spoke with a fairly flat intonation. They never actually found out what made voices monotonous, although I'd guess it comes from the rhythm of a voice.
So what's the bottom line? Well, monotone voices are no less attractive than varied voices, although they are seen as being more manly.